Legacy Discovery - Atlanta - 5-13-2022
05/13/2022 05:30 PM - 05/15/2022 06:00 PM ET
Admission
Location
Georgia FFA-FCCLA Center
720 FFA FHA Camp Rd
Covington, GA 30014
United States of America

Description
Pricing
Early bird price till March 31st - $400.00
Regular Price of the event - $450.00 - Registration closes on May 7th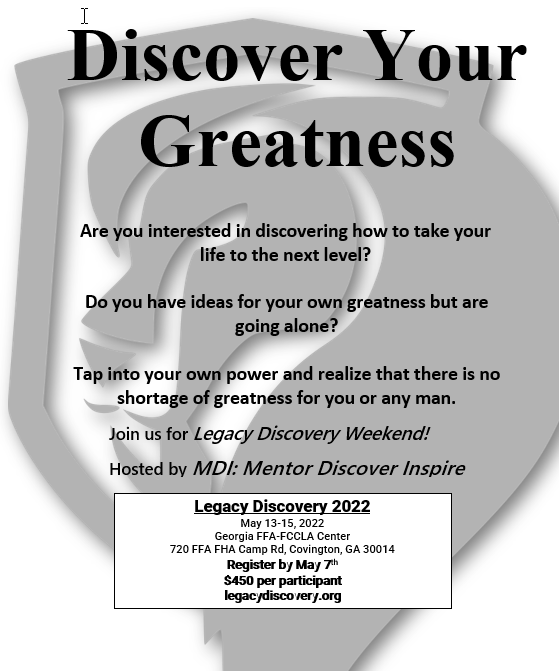 PURPOSE OF LEGACY DISCOVERY
To connect YOU to YOUR masculine identity through the wisdom
of the Men, and with that power put your legacy in action.
-- Event and Payment Information --
Event:
Registration opens at 3:30 P.M. on Friday May 13th, 2022 at the Georgia FFA-FCCLA Center,
720 FFA FHA Camp Rd, Covington, GA 30014. Participants should
plan their schedule so that they can complete registration and be ready to go at
5:30 P.M. The event will complete by 6:00 P.M. on Sunday, May 15st, 2022.
Please bring all general items of personal care (toothbrush, deodorant, pillow,
warm socks, shoes/boots, etc.)

There will be a 3-hour Team Generation meeting several weeks after as a
follow-up. At this meeting you will have the opportunity to join a
Point Program that continues what you start at Legacy Discovery. Details to follow.

Payment
Tuition fee is $450.00.

There is an early bird special pricing arrangement of $400.00 if paid by March 31, 2022.




If you have questions please contact:
David Guy OR Clark Cooper
Tel# (770) 841-6486 Tel# (678) 357-1148
guy.david.h@gmail.com Cooperclark1966@gmail.com
---